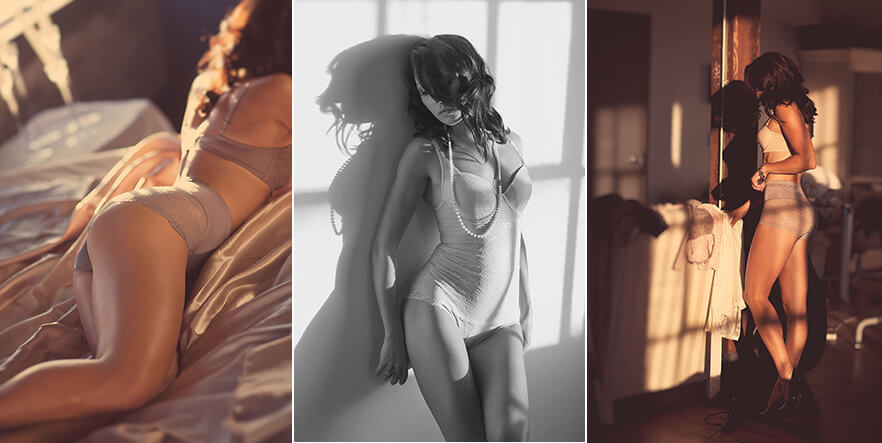 Dear Ladies!
A photo shoot is a very exciting, fun and self-gratifying experience: you open yourself up to new ideas, new looks and reveal your inner self. But shopping for the upcoming photo session is also a very revealing and thrilling ritual, which allows every woman to buy things she always wanted but never had an opportunity to do so.
Coming from our many years of experience doing Lingerie and Boudoir Photography in Toronto, we decided to share with you our resources to help you find the right garments for the photo shoot. The following are the stores that we hand picked and found absolutely amazing for not only 'photo-shoot shopping' but for shopping in general. We are biggest admirers of local boutiques where you can find stunning, one of a kind garments.
With Love Lingerie
The With Love collections appeal to an urban woman whose love of timeless style and fashion extends beyond her outerwear and into her underpinnings. With Love is influenced by current fashion trends, fusing them with elegant lingerie styles to create exciting pieces with each capsule collection.
With Love is proud to be part of the Canadian fashion community and chooses to keep production in Canada.
Website: withlovelingeriexoxo.com
Secrets from your sister
Location: 560 Bloor St W, Toronto
If you are looking for elegance and classical beauty – this is the place to be. From Pin Up to modern innovative designs, this Toronto based boutique offers a gorgeous collection that will be custom fitted for your body shape only. If you are looking for jaw dropping beautiful lingerie that will linger in his memory for many, many years to come – you have to pay a visit to 'Secrets from your Sister'!
Website: secretsfromyoursister.com
Agent Provocateur
Location: Multiple locations around Toronto (check their website for more information)
Agent Provocateur is a luxury lingerie brand and a retailer of exquisite lingerie, classic corsetry, sumptuous nightwear and striking hosiery.
Website: www.agentprovocateur.com
Lola & August
Lola & August is a lingerie label based in Toronto, Canada, that believes in decorating your body, not changing it. Their comfortable designs and luxurious fabrics are as playful as they are wearable.
Handmade in Canada with imported fabrics, these pieces are inspired by European design for the free-spirited, modern romantic. Ethical and eco-conscious thinking have gone into the development of the label and line, including the use of local manufacturing for every garment.
Website: www.lolaandaugust.com
Victoria's Secret
Location: Multiple locations around Toronto (check their website for more information)
Victoria's Secret is the leading specialty retailer of women's intimate apparel and other apparel with fashion-inspired collections, prestige fragrances and cosmetics, celebrated supermodels and a world-famous runway show.
Website: www.victoriassecret.com
Avec Plaisir
Location: 136 Cumberland Street, Yorkville, Toronto
Exclusive, luxurious, and French. Avec Plaisir is a fabulous addition to any Yorkville shopping trip, especially if you are looking for sophisticated and dramatic pieces to add to your boudoir. Here you'll find detail rich corsets, feather topped robes, and statement pieces, boasting big names like Jean Paul Gautier, Eres, and La Perla Black Label.
Website: avecplaisir.ca
Tryst Lingerie
Locations: 465 Eglinton Ave West  &   559 Queen Street West
A Queen Street favourite with a sister location on Eglinton West, this lingerie store occasionally turns into a party! For your ladies only events like bridal showers, or birthday, private shopping parties are available. Just in case you haven't heard, this is THE place to go for shape wear. Spanx are just the beginning. Slips, thigh control shorts, and padded underwear to um…enhance your behind are all available at Tryst.
Website: www.trystlingerie.com
The Ultimate Guide to Lingerie
We found this guide very helpful when it comes to choosing lingerie garments for your upcoming boudoir photoshoot. Check your dresser for these items or use this guide when you scout lingerie boutiques for those sexy and classy pieces!